Wundergrammar: Spaceless
Sunday, January 20, 2008
9:56 PM
How do you break a proofreader?
Asked this weekend if I could spot the error in a leaflet for Columbus'
North Market
, I opened it up and was faced with this: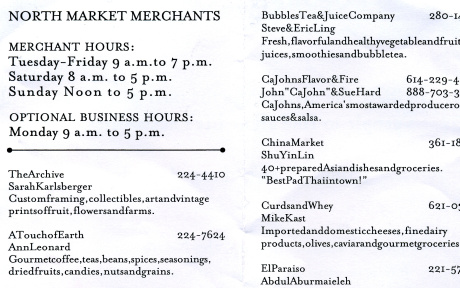 That's right: no spaces. It's not an error, of course, since this is obviously intentional, but... wow.
Now that I've gotten over my initial stupefaction, I'm quite charmed by this display of orthographic derring-do.
Labels: punctuation, wundergrammar
Shouldn't it be 'NORTHMARKETMERCHANTS'? To my mind they've wussed out but not removing *all* the spaces...
Yes (and I agree with JD actually) but whatever did they mean by doing it this way?
Now that's an excellent question. Hopefully it's an attempt to be hip (spaces being old hat) and not some weird ideological or philosophical decision. In any case, I'm amazed that whoever thought this up was able to get the approval.
---
Think reactive, not reactionary