After reading an
enthusiastic article at Slate
, I've become infatuated with
Netvibes
. Basically, it's a site that lets you manage a lot of stuff on one page. It's especially useful if, like me, you shuttle between a work computer and a home computer. Here's my main tab: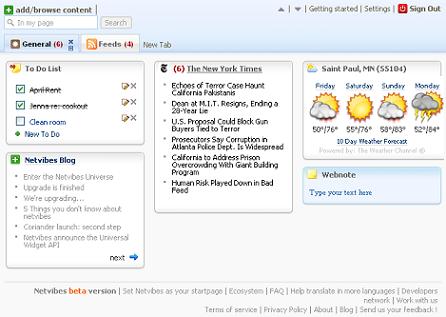 As you can see, I've set it up with a to-do list, a
NYT
news feed, the local weather, and a little notepad in the lower right. That last is especially useful: I can jot something down there and see the same text when I switch computers. There are a bunch of "modules" you can click and add to check your email, to search the web or eBay or Craigslist, to set up a calendar, etc.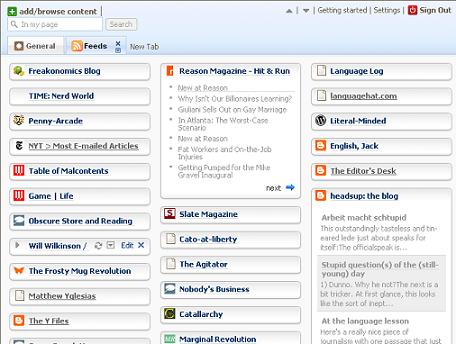 Here's a tab I set up, a second page with all my feeds. If you're not familiar with RSS or never bothered to install a reader program, this means that I'm watching 57 different websites for updates instead of going to them individually.
The feed tab I created seems to recheck the websites every 20 or 30 minutes (you can also force a recheck by refreshing), and it can be set to display headlines or the headlines with a brief preview. I can then visit the page, visit the individual post, or read the post in Netvibes.
I've set this tab up to share globally; you can view it
here
.
I don't often recommend stuff unless I think that the recommendation suits the recommendee (there's a whole category of things I kinda enjoy but would never recommend, e.g.
Painkiller Jane
, Tannenzapfle, and
Law & Order
), but in this case I think there are probably people who read this site and could benefit from this sort of mobile, modular online HQ.