Alternatively: "You got Trussed!"
Thursday, April 3, 2008
8:58 AM
A little over a month after the
NYT
misspelled the book's title
, the
Eats, Shoots & Leaves
Curse has struck again.
After leaving out a colon in the headline, the
press release
for
Literally, the Best Language Book Ever: Annoying Words and Abused Phrases You Should Never Use Again
begins with the observation that "Penguin Group (USA) created a sensation over punctuation with the release of Eats, Shoots & Leaves by Lynn Truss..."
That would be
Lynne Truss
, actually. With apologies to
Mighty Red Pen
, here's a screenshot of the error: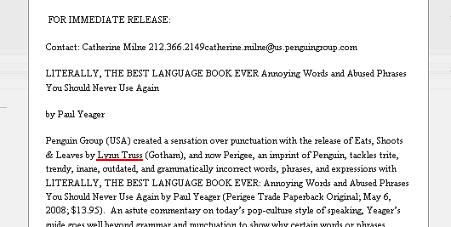 As
Word Wise
so rightly
observed
: "you can no longer assume traditional spellings of names."
Check names and dates, people — this is basic stuff.
Always
check.
(Editosphere veterans will recognize the
Eats, Shoots & Leaves
Curse as a meta-manifestation of
McKean's Law
: "Any correction of the speech or writing of others will contain at least one grammatical, spelling, or typographical error." No one is exempt.)
Labels: editing, grammar politics
I guess McKean's Law also explains the missing hyphen in the title of Truss's book.
---
Think reactive, not reactionary